*Loud droning noise overhead*
A very big package just got air-dropped from Jφss Sticks Airways Flight JS296!
Click the

button and grab it here!
Latest version:
1.3: added "marks" to the answer for interquartile range in Q23(a) for completeness' sake.
1.2: added brackets to answers of Q15(b) to make all terms 'inclusive' to the radian unit.
1.1: reflect changes in Q22(b)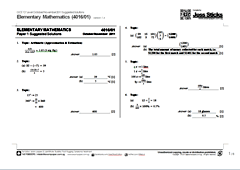 As usual, please leave a comment should you spot any mistake in the solution – Miss Loi was still teaching at The Temple until an hour and a half ago!
Now for Paper 2: Here's a list of possible topics that may appear for tomorrow's Paper 2.
Changing the subject of a formula
Quadratic equations (word problem)
Simple algebraic fractions & equations
Number patterns
Inequalities

Application of mathematics in practical situations

Profit & Loss
Compound interest & simple interest
Money exchange
Hire purchase

TOA CAH SOH
Sine/Cosine Rule
Area of triangle
Bearings
Angles of elevation/depression
Shortest distance

Angle properties of polygons + finding number of sides of polygons

Probability tree diagram
Possibility diagram
One down, one or three (depending on whether you take AMaths) more maths papers to go!
ALL THE BEST & GANBATTE!