Miss Loi's Temple aka Joss Sticks Tuition Centre
And on the plains of Novena did she build a Sanctuary of Learning, to take in and care for those with the poorest of poor grades, so that they may be cleansed of their low confidence & careless mistakes, and attain their Mathematical Salvation.
The New Temple is finally unveiled! Feel free to step inside for a little virtual tour of our latest cosy premises 😀
N.B. As you can see, the write-up below is a little outdated. Please bear with us while this page is being updated 😛
---
They come from all corners of our land. Making their pilgrimage to this One Place to burn collectively the joss sticks that will grant them their ultimate deliverance from the terrifying nightmare that is the Last-Minute Buddha Foot Hugging Syndrome.
The Temple's Rumoured Locality
Nestled somewhere amongst the lush fertile plains of Novena in Central Singapore, a pebble's throw from the MRT, in a secret location known only to those of the purest hearts, Miss Loi's Temple offers the ways of the enlightened to the determined masses and helps the willing attain Mathematical Nirvana.
UPDATE: Waymarkers are up! Read this classic post on the Three Signs for more directional information.
The Temple Grounds
Click the photos and read this post for more description on The Temple's attractions.
Fully-furnished with the essential amenities, this little sanctuary of hope is an epitome of coziness – creating a fully air-conditioned conducive environment that is comfortable for all students but at the same time ensuring that they don't fall asleep maintain their focus throughout every intensive joss sticks session.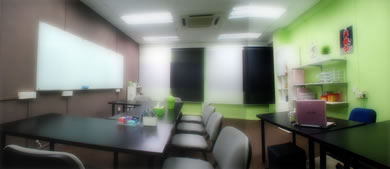 To preserve the sanctity of the environs, and to ensure that every single participant receives the maximum amount of legendary teachings and tender loving care from Miss Loi & The Order of The Temple, each joss sticks session at the Temple grounds is limited to a maximum of +five to eight students (depending on the room) only.
And yes, light snacks are always available and will be served to all devotees weary from their long journeys, together with mini-tests and endless worksheets to enhance their spiritual well-being.
+While we try as far as possible to avoid it, The Temple reserves the right to admit more students than the stated number during crunch times and/or due to unforeseen circumstances.
Temple Bookings
As space in her humble Temple is limited relative to the vast numbers of LMBFH Syndrome sufferers out there, advance booking of session slots is definitely encouraged imperative to confirm your early salvation from your spiritual malady.
Please refer often to the Temple Schedule for the latest updated session timetable.
The United Colors of The Temple.
Devotees Students from over 160 schools have passed through The Temple Gates on the way to their Mathematical Nirvana. Can you spot your alma mater, or perhaps contact us to add yours to the growing list below?
SECONDARY SCHOOLS
JUNIOR COLLEGES, IP & IB SCHOOLS