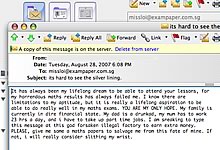 Not wishing to sound ego, Miss Loi does occasionally get some fan mails and accolades emerging from the heap of mundane enquiry emails in her inbox. Of course Miss Loi is always glad and flattered whenever she sees these, but sometimes they do tend to get a little out of hand.
So exactly this day last week, she got this (reproduced totally uncut, unabridged and complete with the original typos):
Date: Tue, 28 Aug 2007 10:08:07 +0000
Subject: its hard to see the silver lining

It has always been my lifelong dream to be able to attend your lessons, for my horrendous maths results has always failed me. I know there are limitations to my aptitude, but it is really a lifelong aspiration to be able to do really well in my maths exams. YOU ARE MY ONLY HOPE. My family is currently in dire financial state. My dad is a drunkad, my mum has to work 23 hrs a day, and i have to take up part time jobs. I am sneaking to type this message at this god forsaken illegal factory to earn extra money. PLEASE, give me some a maths papers to salvage me from this fate of mine. If not, i will really consider slithing my wrist.
Miss Loi actually proceeded to check an online dictionary and found that there's no such word as slith – the closest words being slither and slit.
Discounting the bizarreness of someone actually slithering his wrist like a snake across the table should he not receive Miss Loi's tutorage, she suddenly woke to the shocking possibility that someone could actually slit his wrist for the same purpose!
After composing herself, Miss Loi replied this person with her usual tuition schedule and urged him to leave a contact or call back. But till now Miss Loi has not heard back from this person with a slithering wrist.
So what do you think? A real emo case (gosh hope not!)? Prank? Or an alien with slithering wrists has actually found this blog?
But Miss Loi does admit to having a liking for a mama drama style of writing.