Before you contact us, please note
The Temple does not accept any private home tuition assignments.
The Temple does not offer any trial lesson.
Those shady 2014 O Level papers were an April Fools joke.
Thanks for your understanding and hear from all of you soon!
P.S. Do also check out our
FAQ section
for possible answers to any question you might have.
Grab Your Jφss Sticks Now!
Don't develop the LMBFH Syndrome! Start your regular joss sticks sessions at The Temple today!
To arrange for a tuition appointment or purchase exam papers, please contact Miss Loi at:
Miss Loi
TEMPLE HIGH PRIESTESS
P.S. Incidentally Miss Loi's contact can also be found beneath the grass at the bottom of every page 😉
IMPORTANT: To expedite the process, please kindly provide us with the following information in your email/SMS/conversation:
Your CONTACT NUMBER

(so that we can call you back!)

Name of student(s)
School and level in i.e. Sec 1-5/JC 1-3/Private Candidate etc.
Subject(s) where tuition is needed (please state if IP/IB)
Recent results
Any other information

NEW: Those of you belonging to the smartphone generation may now 'download' Miss Loi directly into your phone's address book by scanning the hieroglyphical image below with your favourite QR Code reader app: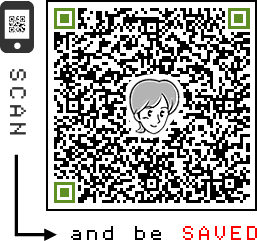 Apologies in advance if any of us ever misses your call as we are likely to be engaged in tuition at the time. Your call is important to us and we'll definitely call you back, unless yours is some spammy-looking private number.
Miss Loi Is On The Way!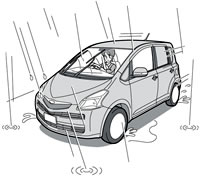 Once confirmed, you might catch a glimpse of Miss Loi turning up in a rare black 2006 Toyota Ractis 1.5G hatchback.
Miss Loi got this car coz she finds it extremely cute, and spacious enough to store all her tuition books and notes.
Its 1.5-litre 1NZ-FE engine produces sufficient power and torque (109 bhp/141 Nm) to overtake all road-hoggers in Singapore so that Miss Loi can reach your place on time. Her set of low-profile Goodyear Eagle F1 GS-D3 made-in-Japan Toyo Proxes T1R Ultra-High Performance Tyres provides the essential grip during hard cornerings which, unfortunately, are sometimes necessary in order to beat Singapore's stubborn traffic.
The Mystery Car

On a fine day in mid-2009, an impulsive Miss Loi signed her life away on the dotted line for her new car, partly in response to an increasing number of irritating road-hoggers whose cars always seem to burst into life the moment she intends to overtake.
Please note that Miss Loi does NOT advocate nor encourage speeding or any form of street racing in Singapore.