UPDATE: Alright, to those who are still clinging on to their distant memories of that fateful opening day of last week's Mathematical Armageddon, here's the suggested worked solutions of E-Maths 4016 Paper 1: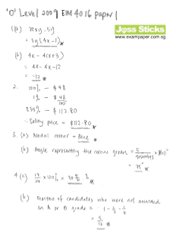 This is in response to the 1 × 10n missed calls (from these few days) that are currently residing in Miss Loi's handphone now:
As Miss Loi is deeply embroiled in her Mega Jφss Sticks sessions during this week of consecutive O Level A/E-Maths papers, please SMS or email your contact number if you're interested in joining her maths classes for the new season (commencing December 2009), and she'll get back to you when things have calmed down (around early November).
Thank You for your kind cooperation.
Once this morning's Mega Jφss Sticks session had ended, and the last of her elite AMaths crack squad had left The Temple, Miss Loi feels the time is ripe again to quietly showcase her notorious handwriting once more: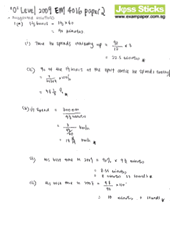 … so as not to disturb their mood for today's O Level A-Maths Paper 1.
---
P.S. As usual, please inform Miss Loi should you discover any mistake in her scribbling (if they are legible to you). Also, feel free to discuss in the comments below should you vehemently disagree with any of the answers/approaches described within.
P.P.S. If you happen to have the FULL set of questions for EMaths Paper 1 (and those from EMaths 4017), feel free to send them to Miss Loi's arms, and the world may be rewarded with more glimpses of Miss Loi's notorious handwriting and drawings 😉