To the 1.0 × 10n (2 sig. fig.) missed calls & emails (from these few days) that are currently residing in Miss Lo's handphone now:
As Miss Loi is deeply embroiled in her Mega Jφss Sticks sessions during this period of consecutive O Level A/E-Maths papers Please SMS or email your contact number if you're interested in joining her maths classes for the new season, and she'll get back to you when things have calmed down in early November – which starts this week!
Miss Loi is currently busy with her phone marathon to respond to all on new enquiries and those on the calling list. Will respond to the comments here in due time.
Thank You for your understanding and apologies for the slow response.
Meanwhile, do checkout the Jφss Sticks Facebook wall for the relentless updates 😉
*Loud droning noise overhead*
Another big package just got air-dropped from Jφss Sticks Airways Flight JS296!
Click the

button (if you haven't yet done so) and grab it here!
Latest version:
1.1: To stem the horde of AMaths students who go "Miss Loi! Your gradient for Q9(d) is waaaaaaaaay off! My dy/dx says 3.2!", the tangent has been 'keeeeeewed' (bent) to a gradient of 3.2 to prevent any widespread panic. But seriously, read this.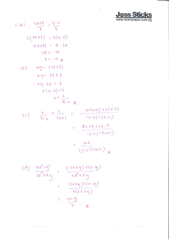 As usual, please leave a comment should you spot any mistake in the solution – like yesterday, Miss Loi still had students to save at The Temple throughout this evening (including some who refused to leave)! tsk tsk
Now to turn the attention to The Temple's crack elite AMaths Regiment over the weekend … *cracks whip!*
Meanwhile follow the Jφss Sticks Facebook wall to receive The Temple's last-minute O Level air-drops cum tips. It's all happening there!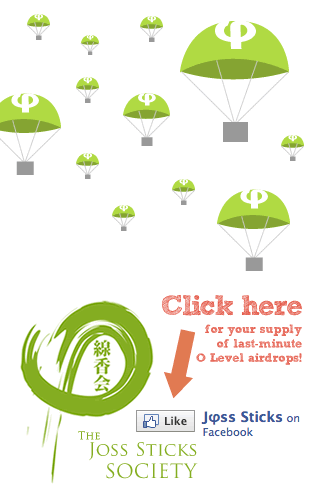 Marching On! Maaarching ON!!!