On a dark rainy Halloween afternoon, a black-draped Jφss Sticks Airways Flight JS296 flew amongst the dark rain clouds, her crew stood in a sombre moment's of silence to reflect on a prophecy that came true (but of course maybe not so true for others …)
… following which they pulled the latch and released the package to the waiting populace below …
Click the

button and grab it here!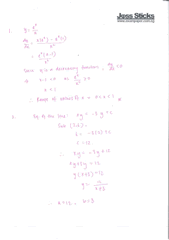 As usual, please leave a comment should you spot any mistake in the solution – Miss Loi's a human too!
Now for Paper 2: Here's a list of possible topics that may appear for tomorrow MORNING's Paper 2.
Change in base
Exponential equations (with substitution method e.g. let y = ex)

Quadratic Equations & Inequalities

Trigonometry

Finding the equation or gradient of curves
Area under graph
One more maths paper to go before the burning of Math books begin!
ALL THE BEST & GANBATTE!