The day began with an innocent attempt at a prophetic tweet.

Only for it to be shot down soon after.

And so in a bright sunny binary day of 1/11/11, Captain Loi and her crew of sexy air stewardesses took off from The Temple to fly Jφss Sticks Airways Flight JS296 among the clouds once more – looking down at a million faces that seemed to bask in the (resigned) relief of the afternoon sun …

… following which the latch was pulled and the package released …
Click the

button (if you haven't yet done so) and grab it here!
Latest version:
1.1: Changed all the "Factor Theorem" to "Factor Formula" in Q10 which Miss Loi had written mistakenly in her haste 😛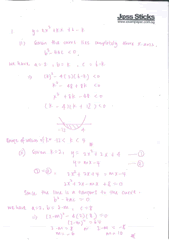 As usual, please leave a comment should you spot any mistake in the solution.
For those who might be feeling a bit down after this year's "more-challenging-than-usual" A-Maths papers, be comforted to know that the evil bell curve should be working in your favour (instead of against you) this time.

Hope you can take heart from the following Singlish-ridden quote which Miss Loi has always said to downcast students in times of need (while patting their backs simultaneously) …
If everyone says difficult and you say die then it's ok.
But if everyone says easy and you say die then you REALLY DIEEEEEE!
Let the burning of Math books begin! But please don't accidentally burn your books from other subjects 😛
Good Luck for the Rest of Your Papers!!!
Meanwhile last-minute air-drops cum tips for other O Level subjects are still continuing on the Jφss Sticks Facebook wall!