Hello it's me again.
Something landed on my lap this afternoon, followed by what I could almost hear was a thousand screams of anguish coming at the end of today's H2 Maths Paper 1.
To find out what happened, I've worked out my own suggested answers which you may access here by clicking the

button (if you haven't yet done so).
Latest version:
1.1: Added the constant of integration (+c) to the answer for Q8(i) -thanks clarionx!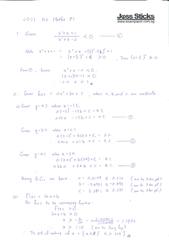 As usual, please leave a comment should you spot any mistake in this set of suggested solutions, which was produced under the peering eyes of some students from today's class *sweats*
Oh by the way, do say hi to me when you drop by in Facebook 😉
Now go revise your
Functions (composite & inverse)
Transformation / Hyperbolas / Curve sketching (oblique asymptotes)

(remember to use Radian mode should you be called to sketch a trigo graph!)

Integration by parts/substitution/ Volume of revolutions
Recurrence / Sequences (Tn = Sn − Sn−1)
Complex Numbers (Rationalization & Simultaneous Equations)
All the best for your Paper 2 on a very auspicious (I hope) 11-11-11!