Hello again everyone and I hope the first week of your A Levels has been good to you so far.
As for me, no thanks to my sister, my eyes are really, really popping out already o.O
Click the

button and grab it here!
Latest version:
1.1: Q6(ii) – rewritten final answer in set notation, since question asks for "the set of values of x̄".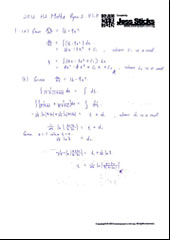 Access it
here
if you're having trouble accessing it on Facebook using your state-of-the-art smartphone 🙁
As usual, all yim yim jim jim scrutinizers please leave a gentle comment should you spot any mistake in this set of suggested solutions.
Meanwhile, the work continues … *listens to Bon Jovi's IT'S MY LIFE playing in the background*
All the best for the rest of your papers!