While an angry Miss Loi was still fuming over being fleeced of S$27 for an A&W meal during transit at Qatar International Airport, her attention was suddenly drawn to the following grave Twitter message that popped up from her Twitter page in her iPod Touch screen: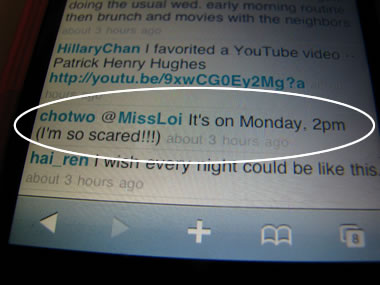 Hurriedly she rushed to check with the powers that be to confirm the inevitable, that
And now an excited Miss Loi is jumping up and down like a siao cha bor (to the chagrin of all passengers at Qatar International Airport), for she couldn't wait for her final connecting flight to Singapore to come soon enough, to send her straight into the festive atmosphere of excitement and anticipation … and to witness your eventual tears of joy.
Suddenly that S$27 A&W meal doesn't seem to make Miss Loi that angry anymore … 😉
P.S. Meanwhile, pour out your feelings at the Judgment Day Facebook Event Wall, even as Miss Loi speeds back to Singapore!