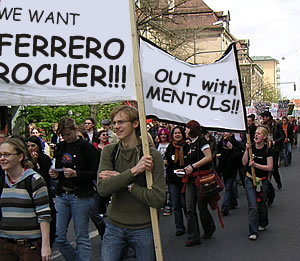 Since the earlier post on the gastronomical delights that await students at The Temple, there seems to be some dissent coming from a minority (read: minority) section of the student population:
How come only have Mentos and Fruit Plus?! Where are the marshmallows and Galatine chocolate you promised on your blog?! I don't care! I want my money back!!!
Miss Loi you stole ALL MY food!
We want Ferrero Rocher! We want Ferrero Rocher!
Now before you bunch of rowdy radical youths commence your sit-in demonstration outside the hallowed Temple Gates, let Miss Loi remind you of the following para at the end of that post:
… let it be known that these premium tidbits are only available as rewards to those of you who can answer the questions correctly in class!
Yeah that's right, there's no free marshmallow in this world!
To facilitate this, Miss Loi shall now indicate in worksheets via (*) asterisks all 'premium' questions which, if answered correctly, will lead to a marshmallow/Mallow Blast/Galatine chocolate popping into your mouth.
Only valid if you get it correct on your first attempt on your own. Not counted if there's any assistance or prompting from Miss Loi or your classmates (don't think they will)!
To prevent a potentially fatal incident where a Math Genius gets choked to death by hundreds of marshmallows, these premium questions shall be of sufficient complexity/difficulty such that (barring freak cases) on average only 30% of Miss Loi's students will get them right on the first attempt.
Now would you please excuse Miss Loi as she pops another marshmallow into her mouth. *enjoys the lofty feeling of great authority!*