如有雷同纯属巧合
As reported previously, Miss Loi has been working late nights (yes, yes, yes you'll hear about them real soon).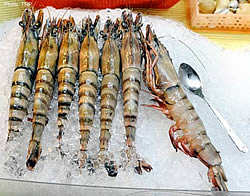 When strange sounds were heard coming from the direction of her tummy last night, she finally decided to end the day's work and drove to the nearest hawker centre (from The Temple, Novena) that was still open at this late hour, for a sinful late night dinner to appease her stomach.
There was barely time to savour the sweet aroma at the smoke-filled hawker centre when she was forcibly promptly ushered by a helper to a table beside a BBQ seafood stall, where rows of tiger prawns were on display and were being advertised at a price of $10 each.
Feeling extremely hungry by now, Miss Loi succumbed to the juicy sight of these succulent prawns. And in a classic don't-care-3-7-21 (不管三七二十一) rash moment, she decided to throw her entire dieting plan to the wind by ordering a whopping total of FOUR tiger prawns.
Upon completing her messy massacre of the prawns, it was Miss Loi's turn to be massacred when a bill of $120 was presented to her by the stall owner.
When questioned, the owner shrugged and said
小妹! These are premium prawns! $30 each! Bigger, longer and better than those $10 ones!
Miss Loi, however, was adamant that wasn't the case.
But they look exactly like the $10 ones.
The owner became agitated.
小妹! WHAT'S YOUR PROBLEM?! LAST TIME WE CHARGE BY WEIGHT AND THOSE *BEEP* ANG MOHS CAME AND GIVE PROBLEM! NOW WE CHARGE BY LENGTH AND A SEXY GIRL LIKE YOU COME AND GIVE PROBLEM!

YOU SAY WE OVERCHARGE YOU – WHERE'S YOUR PROOF?!
With that he took a $10 prawn from the display and placed it, in an oblique manner, beside Miss Loi's last unfinished prawn on a dish.
NAH! SEE?! YOUR *BEEP* PRAWN IS MUCH LONGER! PROVE IT TO ME IF YOU THINK IT'S NOT!
When Miss Loi tried to align the prawns properly, four well-built men (who looked to be in their 40s) appeared from nowhere and blocked her access to the dish.
OI! *BEEP*! WHO SAY YOU CAN TOUCH?! I ASKED YOU TO PROVE NOT TOUCH!
The prawns, whose lengths are represented by the lines ABC and ADE, are placed in such a way that ABC and ADE are secants of the circular dish as shown in the diagram below.
Given that BC = DE, prove that AB = AD.
YOU SO SMART YOU COME AND PROVE LAH! *BEEP*! YOU THINK WE HAWKERS GOOD TO BULLY IS IT?! *BEEP*! IF YOU CAN'T PROVE DON'T EXPECT TO LEAVE THIS PLACE TONIGHT! MUAHAHAHAHAHA!!!

*BEEP* *BEEP* *BEEP* *BEEP* *BEEP*
Given that that her 阴阳眼 Of Plane Geometry is refusing to work OT since it's already late at night, and that this question is similar to an evil tricky one contributed by a student (actually this IS the question, minus the prawns), and that she's being surrounded by more and more well-built men (who looked to be in their 40s), can you please help Miss Loi (with the aid of the sheet below) prove the above and escape from the hawker centre? 🙁