Following the recent discussion on what constitutes a 'premium' question (i.e. questions that reward you with lovely marshmallows during joss sticks sessions at The Temple), here's one for the sake of an example: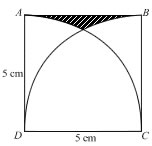 In the diagram, ABCD is a square of 5cm. Find the area of the shaded region.
Such a beauty. Simplicity at its finest. Strictly speaking, even an (smart) E-Maths student should be able to do this.
However, just like the tendancy of a Zen Master to speak in profound riddles, questions of such minimalistic nature are often hidden death traps meant to snare unsuspecting students.
Unfortunately in exams where time is at a premium (no pun intended), many students still choose to be overwhelmed by long questions (i.e. those with parts (a) to (z)) and, like sailors drawn to sirens, couldn't resist the allure of 'short and simple' questions – only to get stuck reflecting on this one question till the clock runs out.
Remember: Long questions are meant to help you. (Too) Short questions might kill you.
To illustrate further, would you rather see this in your exam?
Why did the chicken cross the road? [12 marks]
Or this?
A chicken is being chased by a cat (top speed 3.5km/h). With the cat just 10m behind, the chick stops in front of a road and sees a Ferrari Enzo (top speed 350km/h) speeding towards its direction from 1km away.

Calculate the time the cat takes to reach the chick, assuming chick is still deliberating at the roadside. [5 marks]
Calculate the time the Ferrari Enzo takes to reach the crossing point at top speed. [5 marks]
Hence, explain why did the chicken cross the road. [2 marks]

WARNING: Kids, premium questions are dangerous! If you encounter one in your exam, skip and do the rest first*, and come back only when you have the time. Time (and not your ego) is of the essence!
Best attempted at home or at Miss Loi's Temple in anticipation of marshmallows. Not in your exam!
*applicable only if you're not a Math Genius or cyborg