Hello again guys,
I've heard your little chorus of comments even as I was having my classes this afternoon.
So with whatever time I have at my disposal today, I've managed to squeeze this out (with a little help from my sister):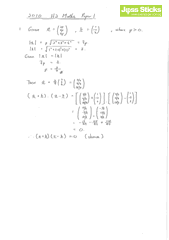 As usual please let me know via the comments should you spot any mistake in the H2 Maths Paper 1 solutions.
Meanwhile, here's a list of topics which you might find it worthwhile to go through again before your Paper 2 tomorrow.
Integration (by parts, by substitution, volume of revolution etc.)
Summation
Mathematical Induction
Arithmetic & Geometric Progressions (AP/GP)
Complex Numbers: Solving complex roots via simultaneous equations or de Moivre's Theorem
Composite Functions
Statistics (this one no need to say)
All the best for your Paper 2!