Hello everyone – it's me again.
Hope all of you have done well for your A-Level Mathematics exams.
Sorry for the delay with the 2008 H2 Maths Paper 2 solutions as I've been busy with tuition (yes I teach other subjects besides A-Level Mathematics) for the past two days. A problematic scanner didn't help things much.
Anyway here it is: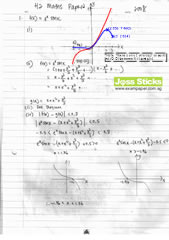 As per the 2008 H2 Maths Paper 1 answers, please check if they tally with your solutions and inform me (gently) in the comments below if you discover any mistake or disagree with any of the answers described within.
All the best for your remaining subjects this week!
P.S. I've just realised that the silly baseball cap is still there …