… continued from here.
*SELF POWERS UP*
---
12 Nov 2013
Finished In Front Of The Toilet
Exhausted from helping to prepare multiple answers to multiple papers (gosh this year's exam timetables are really MEH 🙁 ), I once again slumped against my chair at The Temple in front of what is possibly the most beautiful, most ammonia (NH₃) pungent smell-free toilet you'll ever find in any tuition centre in Singapore 😛
It's been raining all morning, but thankfully the gloomy weather didn't translate into doom and gloom in today's O Level Chemistry MCQ paper.
The list of workings and explanations for each of the answers (where applicable) for the GCE O Level 2013 Chemistry Paper 1 MCQ have been compiled!
Latest versions:
1.2: Added further explanations to:
Q16 – Why Y is not oxidation due to unchanged oxidation state of elements in ethanoic acid.
Q32 – Why nitrogen does not undergo a reaction in the blast furnace.
Q36 – Note on cis-trans isomers *sigh*
1.1: Q23 – corrected typo in explanation. Should be options A, B & C excluded.
Access here by clicking the

button (if you haven't yet done so).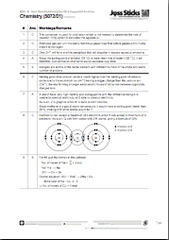 Access it
here
if you're having trouble accessing it on Facebook using your state-of-the-art smartphone

Do they tally with yours? As usual, please, please leave a comment should you spot any mistake in the solution.