Remember those Sec One days? The days when you walked into school with a stupid-looking water bottle slung across your chest and, for the boys, when the hair was just starting to grow on your legs (please don't think sideways. tsk.).
Sadly, many students studying for their final exams tend to get so caught-up with major NC-16 topics like Transformations and Vectors that they've forgotten about these good o' pre-pubescent days.
So when they see something like this in the exam,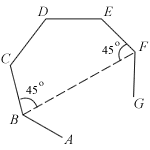 ABCDEFG is part of a regular n-sided polygon. Given that ∠CBF = ∠EFB = 45o, find n.
… they end up scrutinizing the diagram (if there's one) for long periods, wondering if it had been drawn correctly.
Now given that a question on polygons will almost always appear somewhere in your Paper 1, Miss Loi shall help refresh your post-puberty memory by pulling this straight out from the cartoon-laden pages of your Sec One textbook:
Sum of interior angles in a n-sided polygon = (n-2)180o
Can already hear all the "Chezzzz … so simple!".
Welcome to the egoistic world of adulthood.