At the time of writing, twelve dark days now stand between Miss Loi's charges and the penultimate showdown.
Evidently the stress is starting to tell, as one by one her students begin to assume the famous stance of a certain blogger in class.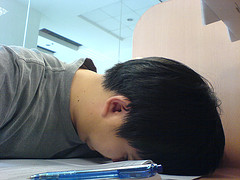 Gone are lame jokes such as this:
Q: Why didn't Doraemon respond when Hello Kitty cracked a joke?
A: Because Doraemon has no ears!
To be replaced by even LAMER ones like this:
The questions are pretty hard. But sometimes they can be rather soft too.
Or other variations like this:
This question very chicken hor? But it can be rather duck also.
Over at Miss Loi's Temple, gone are the times when students were too shy to even touch the snack jar:
These days they grab snacks by the handful, constantly mumbling the words "very stressed" as they ravenously devoured sweet after sweet, and marshmellow after marshmellow, with Miss Loi helplessly staring agape at the spectacle.
Gone is the warm and cozy atmosphere at The Temple. When the air was filled with the sweet scent of camaraderie. When everyone knew each other's sibling's maiden name. When Miss Loi was frequently interrupted by friendly students asking intelligent questions like "Miss Loi, where did you do your nail art har?".
Instead students are now calling each other tersely by the NAMES OF THEIR SCHOOLS i.e. "Oi! Yishun Sec! Can pass me that ruler?!" or "Deyi! Return me my pencil!"
Oh yes, these are stressful times. Students are afraid. Some are very afraid. And when the going gets tough, bouts of escapism surface.
Some simply refused to let Miss Loi mark their papers during lesson time. And when a black-faced Miss Loi eventually had her way, all wrong answers were firmly dismissed with
This one not counted. That one not counted. So if never count those, I actually scored full marks! Yay I'm good!
But to be honest, Miss Loi had seen it all as tutor all these years. Moreover the above symptoms have all been well-documented by the education fratenity. And it's not surprising they're surfacing now since it's the peak outbreak season for the most potent variant of the LMBFH Syndrome virus.
However, all the experience in the world couldn't prepare Miss Loi for the following encounter: students (apparently who couldn't bear the strain any longer) with the magical time-shifting ability to bring forward the dismissal time!
Buddha help us.