The first week of school has passed.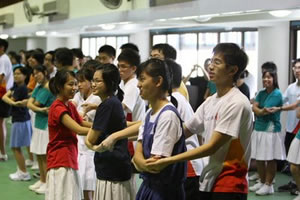 A week to pon lessons. A week to discover new teachers and classmates. A week for the hopelessly shy to discover if their crushes are still unattached after the holidays.
A week for many to rediscover the art of waking up early, and to practise pinning that school badge without causing a massive haemorrhage. A week to dye that highlighted hair black again.
A week for the younger ones to learn a new school song, new corny school cheers, and a deeply profound concept called '<enter school name> Spirit'.
Amidst all the unproductive activities and with teachers still mulling over their GROWth, it's also a week where the LMBFH Syndrome begins planting its seed within unsuspecting victims.
To thwart its evil attempts, Miss Loi has been invoking her mathematical powers to calculate the infinite permutations and combinations of her incoming students' availability, taking into account their school timetables, remedial class timetables, CCA timetables, other tutors' timetables, piano teachers' timetables, dating timetables, slacking timetables etc … and she's mightily relieved to be finally able to confirm the tuition schedule for Semester I's Jφss Sticks Sessions:
2008 Semester I Jφss Sticks Sessions
Lesson Times:
Every Friday
3.00-5.00pm (Sec 4)
5.00-7.00pm (Sec 4)
7.30-9.30pm 7.00-9.00pm (Sec 4)
Every Saturday
10.30-12.30pm (Sec 4)
1.00-3.00pm (Sec 1)
3.00-5.00pm (Sec 4)
5.00-7.00pm (Sec 2)
Every Sunday
1.00-3.00pm (Sec 4)
3.00-5.00pm (Sec 3)
5.30-7.30pm 5.00-7.00pm (Sec 4)
Venue:
Miss Loi's Temple
Class Size:
Exclusive to 4-6 students/class
Duration/Session:
2 hours
Included:
Drinks and light snacks
Miss Loi's fabled Exam Papers
School uniform is optional
Yes, your eyes are not playing tricks on you. Miss Loi has heard your pleas – Sec 1-3 classes are now available at The Temple. 😀
Classes have already commenced in accordance with the above schedule. However new students are still welcome to join these sessions, subject to prevailing vacancies. Please contact Miss Loi if the above schedule doesn't suit you.
Whatever the case, with merely 10 more months to the next O-Levels, do contact Miss Loi now to confirm your early salvation!
开课咯!

WARNING:
You're probably aware of this if you've been following
her gossipy Twitter feed
. In the interest of safety, it is Miss Loi's duty to forewarn all prospective students on the existence of a notorious class of absolute
monsters
lurking within the schedule. Whether you wish to join or avoid them is purely a matter of personal choice.