Though she still can't quite figure out why different countries celebrate the same occasion on different dates, Miss Loi would like to wish all readers a Very Happy Vesak Day!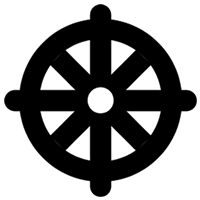 To all students, may you all attain your Mathematical Nirvana soon!
With a blog that babbles on and on about the philosophies of nirvana, enlightenment etc. etc. it is perhaps significant that this year's Vesak Day also herald the grand opening of Miss Loi's Temple.
Just the other day, Miss Loi did a count with her fingers *in a sagely way* and realized that with this year's revised O-Level timetable, the O-Level exams are now less than 5 months away!
As the annual ritual sadly plays out itself year after year, that Big O-Level Foot will surely be groaning from the burden of thousands of LMBFH Syndrome sufferers jumping onboard as the date draws near.
So please, please do not be one of them. Start burning your joss sticks now!