Being a lone chick lady tutor driving on the fast lanes of Singapore's roads, Miss Loi can sometimes attract a bit of unwanted attention – be it from P-Plate newbies admiring her high-G overtaking manoeuvres on their left, or Ah Bengs in their turbocharged cars challenging her to a race, or the hordes of cheekopek uncles staring out from nearby coffeeshops whenever she stops by the roadside newsstand to buy her Lianhe Wanbao.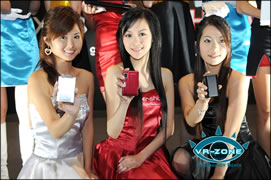 When last night's joss sticks sessions ended early, Miss Loi did a quick calculation by plotting some distance/speed/acceleration-time graphs, and by assuming that the number of P-Plate road-hoggers on the roads at the time followed a discrete probability distribution (though in reality it's probably a continuous probability distribution), decided there was still enough time to make a dash for the closing stages of the IT Show.
Her decision was fully vindicated when, after parking her car at her usual spot, she managed to breeze through two levels of exhibition halls and bought her ultra-cheap Fujifilm FinePix Z5 in under an hour, with none of the insane crowd (described here and here) present.
Thoroughly satisfied with her evening's achievement, Miss Loi returned to her usual spot only to be surprised that some chap had left a note asking her out for a date …
… with the courts.
Oh she forgot to mention in the first para that she's pretty popular with the boys from a certain government agency too. So now Sergeant Ang has just found himself a new rival.
And unlike the traditional dating game, the girl (i.e. Miss Loi) has to pay $70 in order to reject this date.
Thank You, SERGEANT BENEDICT KHO, for upgrading the price of her low-end camera to a mid-range one. Where's your sense of sympathy, especially when Suntec City's carparks were all jam-packed?!
There goes another of her 'usual spots'. 😥