如有雷同纯属巧合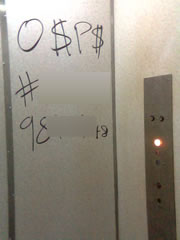 As joss sticks smoke filled the table during the sexy maths tutor's romantic Valentine dinner, dense smoke of another kind choked the stale air of the loan shark's office, as the love-struck Ah Beng faced up to his boss, surrounded by a dozen or so henchmen whose Marlboro Reds were the source of the high PSI reading.
"WHAAT?! $12000?! YOU WANT ME TO LEND YOU $12K???!"
screamed the loan shark boss, as he flashed the Ah Beng's dismal PSLE grades on the overhead projector, in front of all the henchmen.
"Look at your grades! Look at your USELESS self! Who you think you are?!"
*Collective laughter from the henchmen*
"That woman's a university graduate and a sexy maths tutor with more than 17 years' of experience! You're just a pathetic Ah Beng! YOU'LL NEVER BE ABLE TO CATCH UP! I think you're better off collecting debts for me – for this year I want a 100% debt-collection success rate for my gang!"
The Ah Beng stood there with his head bowed and fists clenched, like a 'marked' student in front of an abusive teacher, silently taking in all the humiliation and mockery thrown at him.
After what seemed like an eternity, however, the loan shark began to admire the Ah Beng's stubbornness single-mindedness and softened his stance.
For his loan of $12000, the loan shark boss offered him his 'special' loan shark runner package of either
Simple interest rate of 300% per annum.
Or a compound interest of 60% per annum, to be compounded monthly.
The entire sum plus interest is to be repaid at one go in 4 years 6 months.
Which option should the Ah Beng take?
NOTE: Though the Ah Beng had long memorized the formulae of simple interest (
) and compound interest (

) through his debt-collection runs and frequent eavesdropping on the maths tutor's lessons, he crucially missed the lesson yesterday when the tutor was discussing a secondary three exam question from a particular school which involved interest that was compounded monthly.
Also, like many students that the maths tutor had taught, there is a grave danger that the Ah Beng will get confused as to whether each formula calculates only the interest or the total amount.