Hello it's me again!
Without further ado, here's my drafted list of suggested answers for this year's Physics 5058 MCQ Paper 1, along with the usual workings, diagrams and explanations to my answers (where applicable).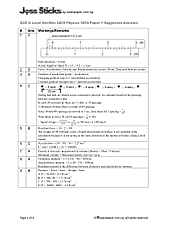 So how did your tikam-tikam go? Do leave a comment if you spot any mistake, typo and/or wish to clarify any of the explanations given. At least I think my typewriting is nicer than my sister's A/E-Maths solutions 😉
Good luck for those of you with your remaining papers! As my sister says, FREEDOM IS NEAR!