Nevermind if you are too young to know who the Spartans were. But because they tend to appear (whether as Spartans or not) in your E-Maths Paper 1, so STUDENTS!!! PREPARE YOUR HOMEWORK!!!!!!!!!!!!!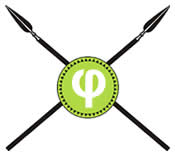 To warn King Leonidas of the approaching Persian army, three Spartan scouts are assigned to send signals from three different posts at 0600 hours everyday. The first Spartan signals every 16 seconds, the second Spartan signals every 40 seconds and the third Spartan signals every 64 seconds.
Find the time, correct to the nearest minute, when the three Spartan scouts signal simultaneously.
HAROOH!!! HAROOH!!! HAROOH!!!
P.S. If thou art still stuck, do climb a mountain and seek the Oracle in the form of Miss Loi's wise old primary school teacher friend Mdm Lau Chio Min. But please be gentle to her and don't shout "HAROOH!!!" into her face.