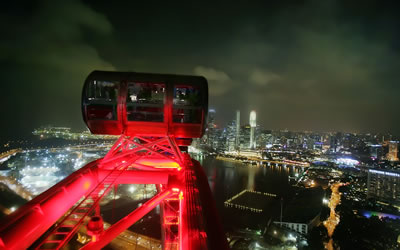 In her excitement, one of Miss Loi's students booked and paid for 4 x tickets for the 6 April (this coming Sunday) 9pm slot on the Singapore Flyer for she and her friends.
Since best friends are usually the best in flying aeroplanes at the last minute, it's no surprise that she's now desperately turning to Miss Loi for help, after two of her friends have pulled out of this little outing, and none of her other friends wants to lose a chunk of their pocket money are free to take their places.
Seeing that the introductory offer period is about to end soon And thus in a massive display of compassion, Miss Loi promises to buy the two extra tickets from her student (even though she had just ridden on another ferris wheel not too long ago), provided she can find another person to go with her.
But sadly, none of Miss Loi's friends are free that evening too, as they're all occupied with important stuffs like mahjong, EPL etc.
Anyway while Twittering this morning, NTT suggested holding a math contest on this blog. After seeing some early signs of enthusiasm and prompting, here we go …
* * *
Knowing that it takes a certain level of mathematical competency to be able to engage her in some meaningful conversation during the flight (like working out the geometric distance to some landmark), Miss Loi hereby propose that the *first person to answer correctly the following question: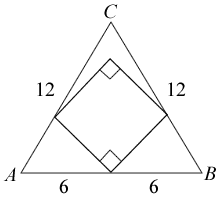 In an equilateral triangle ABC, AB = 12 units. On vertex of a square lies at the midpoint of AB, with the adjacent vertices lying on the other two sides of the triangle.
The length of a side of the square may be expressed as
p√2 + q√6,
where p and q are rational numbers.
Find the values of p and q.
… shall get to spend a romantic evening on the Singapore Flyer with her, where together we'll be soaring high above the magnificent Singapore skyline, enjoying the cool night breeze, solve a math problem or two, and maybe even spot The Temple in the distance!
Moreover, you'll have the dubious honour of being the first mortal from the blogosphere (apart from her students & their parents) to ever lay eyes on Miss Loi's divine face … umm … if that really means anything.
NOTES:
This question is taken from a math workshop attended by (coincidentally) the same student, where the trainer was allegedly going so fast like a toot toot train, oblivious to the blank stares from the entire class.
Its kind is too mind-stimulating to EVER appear in the TYS, but this might help you in your upcoming Mids where anything can happen – especially with sadistic teachers out to exact revenge on students who gave them a torrid time in Semester I.
Lastly, this same question also managed to stump a GEP student – though in all due respect he was in a big, big hurry to get back to his DotA game.
P.S. To the student: Don't say Miss Loi never try to help you har …
* Miss Loi reserves the right to reject any candidate whom she believes to be of dubious background, even though he/she might have answered the question correctly.
** Automatically disqualified: all students (and their immediate friends) who'd gone through this question in her class, the math workshop trainer, and cheekopeks who ask their school-going relatives to do the question on their behalf.
*** Do note that all visitors are to arrive at the Singapore flyer half an hour before their slot time.