Now that the euphoria has settled somewhat, it's time for Miss Loi to catch up on her new year shopping with just a week left to Chinese New Year.
Comprehensively out-muscled and out-jostled by the Ip Man-trained aunties in a packed Chinatown the year before, she decided to do her shopping at somewhere less competitive this time round.
And so she found herself shopping tonight at a fun fair cum pasar malam, set in a vast field in the middle of a HDB estate somewhere in the northern part of Singapore – complete with smoky food stalls, tikam-tikam stalls, fun rides, pirated DVDs, and disturbing new year songs that went on for eternity.
Laden with boxes of bak kwa, candy and other new year goodies an hour later, she sat down with a cup of sugar cane juice for a much-needed breather, and to reflect on her tragic failure to win that pinky fluffy soft toy at the tikam-tikam stall.
It was then she spotted the entrance to the huge ferris wheel of the fair, with a large poster touting it as "The Largest Ferris Wheel in the North!", "Taller Than A HDB Flat!", and "Visitors will be treated to spectacular views of the northern skyline – including key landmarks like the Causeway and JB's magnificent cityscape!", among other things.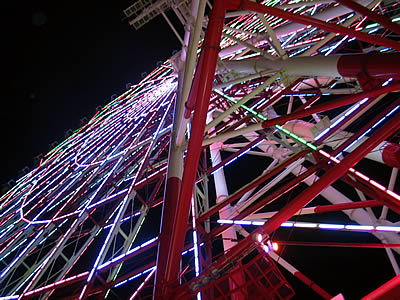 Intrigued by the poster (and the possibility of checking if the Causeway was jammed), Miss Loi quickly gulped down her remaining sugar cane juice, bought a ticket and hopped into an empty carriage.
Surrendering herself to the subliminal effects of the endless new year songs, an oh-so-breathtaking sight unfolded as she soared high into the sky. Rising above the glitzy lights of the HDB neighbourhood and watching the aunties below receding into little dots like those in a dot diagram, she was swept away by stunning views of majestic landmarks like BLK 107, BLK 359, and the multi-storey carpark where she had parked her car.
Just when her carriage reached the top of the wheel, however, the ferris wheel suddenly jerked to a stop and (miracle of miracles) the new year songs actually stopped. She looked down to see the wheel's operator instructing her to remain in her carriage while he looked for help.
And an obedient Miss Loi did as she was told, and it was then she realized to her dismay that she had left her boxes of bak kwa on the ground before she came on board …
[6 hours later] …
Cold and hungry from the night winds, Miss Loi was awakened by someone calling out to her from a loud hailer:
HELLO! I'M FROM THE FERRIS WHEEL RESCUE TEAM! THERE HAS BEEN A TECHNICAL GLITCH!
He continued …
SORRY WE TOOK SO LONG TO COME AS WE WERE BUSY WITH ANOTHER PROBLEMATIC WHEEL IN THE SOUTH! WE TRIED TO REACH YOU BY A LADDER BUT IT TURNED OUT TO BE TOO SHORT!
-_-
THE ONLY WAY IS TO USE A ROPE TO LOWER YOU TO THE GROUND BUT UNFORTUNATELY, I FAILED MY O-LEVEL MATHS LAST TIME AND NOW I DUNNO HOW TO CALCULATE THE LENGTH OF ROPE REQUIRED!

OH WAIT! YOU'RE THAT FAMOUS MATHS TUTOR FROM THE SUNDAY TIMES! SO YOU MUST HELP ME TO SAVE YOU!
Mustering what was left of her mathematical powers, a weakened Miss Loi could only "see" the following:
Using the ground as the x-axis, the circular ferris wheel is centered at (0, 6). A ladder left lying on the wheel can be described using the equation x + y = 10 and is tangent to the wheel.
If Miss Loi's carriage is right at the top of the wheel, find the length of rope needed to lower her to the ground.
As she's beginning to feel the effects of that massive gulp of sugar cane juice, can you please help Miss Loi before she has to do the unthinkable?
*Blogged to you live from Miss Loi's mobile phone, in a cold, lonely carriage x meters high in the sky … *
NOTE:
Unfortunately Miss Loi is too weak this time to give more tips or draw a diagram to illustrate further. So it's up to you to first
visualize
the situation and brush up on both your basic and AMaths
Geometry
.