Another update:
Apparently, our in-house 'chef' is proving to be a hit among our participants!
Update:
Seems like many 小强s, 小明s and 小亮s have drawn the 上上签 this June 😀
Time to roll up the sleeves and 开工咯!
如有雷同纯属巧合
With an abrupt thud, she fell to her knees in front of the altar, oblivious to the choking joss sticks smoke swirling around her.
Mustering an immense focus that would triumph any muggertoad student's, she began shaking the bamboo container of sticks in her hands while she uttered,
[translated from Cantonese]
Oh my divine deity. Please bless and advise me. My son 小强 will be taking his O Levels this year. But he just failed his Maths mid-year exam and from his exam script he doesn't even know how to solve 1n+1!

My divine deity, please help my 小强. Please advise me what to do?
Surely and surely, the shaking caused one of the sticks to emerge from the pile and drop to the floor.

Astonished, she quickly returned the stick into the container and began shaking it again.
Oh thank you my divine deity!

By the way, my 小强 also failed his Chemistry. And he still thinks that Mole Concept has something to do with cosmetic surgery!

My divine deity, please advise me what to do?
Another stick left the container and dropped to the floor.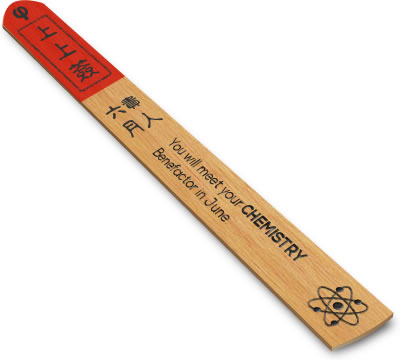 Oh thank you thank you my divine deity!

Actually hor, my 小强 failed his Physics as well. Until now he still thinks that sea breeze occurs at night since his BBQ pit at East Coast Beach was disrupted by strong winds before a thunderstorm!

My divine deity, please advise me what to do?
Another stick dropped to the floor.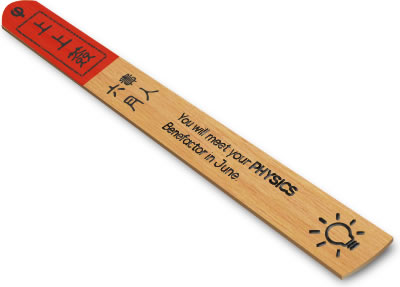 Oh thank you so much my divine deity!

Not trying to be greedy har … but my 小强 also failed his Social Studies. Errr … what is SBQ and SEQ har???

Can advise me one more time?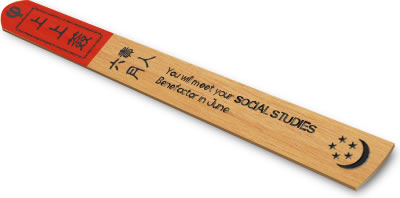 With everything "dropped and done", she gathered the sticks and rushed excitedly to the temple's fortune sticks interpreter.
Sifu! The sticks I've gotten all contain a φ symbol in place of the usual number. And all of them say I'll "meet my Benefactor in June". What does this mean?
The Interpreter took a cursory glance at the sticks.
Ah … another Last-Minute Buddha Foot Hugging case.

This φ symbol belongs to a newly-constructed Temple in the central part of Singapore, wherein reside the Benefactors who will be able to save the grades of your son.

June is the period when this Temple holds its June Holiday intensive joss sticks sessions for the subjects you have prayed for your child.

You may find more details at this Temple's official internet website.

You better hurry, as June is just a week away and their joss sticks tend to go out of stock really fast – this is exactly the same thing I told the mothers of 小华, 小明 and 小亮 last week!