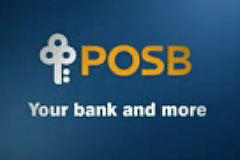 Today's question deals with Simple & Compound Interests, a topic that manages to keep its place within the new E-Maths 2008 syllabus.
This simple question is inspired by a true story, and Miss Loi believes that everyone (yes, even those of you who are not students anymore) should be able to solve this, though a long spreadsheet might help save some time for Part 2.
So in true Jφss Sticks fashion …
As a result of a wider effort to "instil the discipline and importance of saving" to children, a cute little boy cheerfully received a piggy bank distributed by POSB in his school.
With great diligence and discipline, he managed to fill his piggy bank to the brim with $86.60 worth of coins from his own pocket money. Thus, it was with a great sense of achievement that he walked into his favourite POSB branch, accompanied by his proud mother, to deposit the coins that he had so painstakenly saved up.
His spirits were high as he waited in the queue, comforted by the warm, caring smile of the POSB Girl giving kids a respite from the rain, in a scene that was played over and over again on a TV screen high above.
When his turn came, he was told, to his utter disbelief, by the bank that, except for the first 200 coins, there would a charge of $1.50 for every 100 coins deposited. As such, a total of $4.50 was promptly deducted from his POSB account.
Calculate the percentage decrease in the cute little boy's savings as a result of these charges.
Assuming that:

The bank pays an attractive compound interest rate of 0.25% per annum (valid as of 6 Dec 2007), and credits this interest monthly
This rate won't change in the foreseeable future
The cute little boy was too distraught to make any further transaction with the bank

Calculate how long does it take for the cute little boy to recover his $4.50 through the bank's interest.
After this incident, Miss Loi is confident that this cute little boy will ace his Simple & Compound Interests topic in time to come. At the same time she hopes that he has learnt a lesson that, beyond the warm, caring smiles, things in life aren't always as straightforward as they seem.