According to Miss Loi's students, some major football tournament is kicking-off tonight (which will likely result in some sleepy students and late handing up of homework for this month. Tsk tsk.).
Incidentally, during a routine scan of the list of members who've signed up, an eagle-eyed Miss Loi spotted a certain "Cristiano Ronaldo" on the list.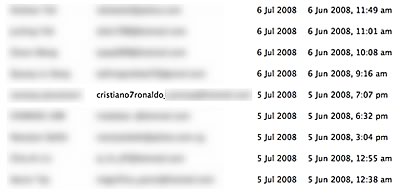 Since his name rings a bell even to Miss Loi's football-illiterate ears, she reckoned that he must be a very famous player (and quite handsome too she was told).
As to why Cristiano Ronaldo was checking out Miss Loi's maths exam papers so close to a major football tournament, it'll probably remain a mystery for a long time to come.
Perhaps he needs more practice on quadratic curves in order to Bend It Like Beckham?
UPDATE: Miss Loi has just received word that David Beckham has signed for Jφss Sticks today!

Apparently, maths is now an integral part of a footballer's curriculum.