From 120km/h cement trucks to 40km/h aunties & uncles hogging the right lane, Miss Loi thought she'd seen it all in her daily commute to her students' residences on Singapore's world-class roads. But what happened yesterday afternoon left her in a bit of a shock – even worse than her previous accident experience.
To go straight to the plot, there were three of us travelling happily along Ang Mo Kio Ave 2 in the vicinity of St. Nicholas Girls' School – a blue pickup lorry and the two protagonists: a sexy Maths tutor in a black Toyota car, and … umm … let's just call him Mr Dumbass in a black egg-shaped Mitsubishi Colt Plus.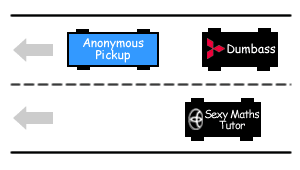 As you can see from the diagram above, everyone was merrily cruising in formation along the two-lane road, the sky was blue, the birds were chirping, and the world was in equilibrium.
Perhaps a massive bout of self-pity for his sad underachieving life suddenly overwhelmed Mr Dumbass, but still this is not a good reason for him to do this: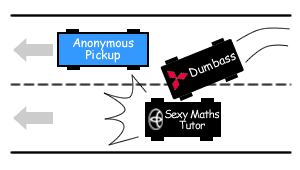 From the haunting image she saw in her side mirror, Miss Loi was dead sure 2 cm was all that separated her from the real possibility of yesterday's post becoming this blog's final post. In fact her fingers are trembling now as she types this.
To his credit, in the obvious absence of a functioning brain, Mr Dumbass appears to be well-compensated with a pair of functioning ears so he did manage to pull away at the last minute (and it was really last-minute!) upon hearing Miss Loi's incessant horning for what sounded like an eternity.
By now Miss Loi had slowed her car and was still reeling from the shock. Mr Dumbass had also slowed down and was now cruising, ironically, at least 20m behind her.
Once she had regained some composure, Miss Loi signalled to stop and was expecting Mr Dumbass to do likewise, get out of the eggshell of his car and at least apologise.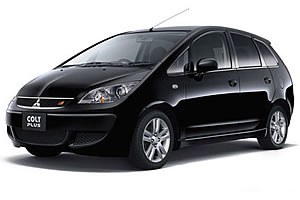 Just as she was preparing to unleash 16 years' worth of student reprimanding experience on him, much to her utter dismay, Mr Dumbass' eggshell suddenly came to life and zoomed past her as if it was running on NOS!
As she angrily tidied her messy hair caused by Mr Dumbass' slipstream, Miss Loi is convinced that with the rising number of vehicles driven by an increasing population of Dumbasses, Singapore's world-class roads are becoming more dangerous by the day.
As she saw another pair of efficient white-uniformed wardens zipping past on their scooters on their way to summon the next batch of unfortunate illegal parking offenders, she couldn't help feel that some of this efficiency could be better channeled to catch wimpy idiotic dumbasses like the one above.
Afterall dumbasses can kill. 10-minute expired coupons don't.