After descending from Japan's second-highest mountain, Miss Loi found herself in a cute little village.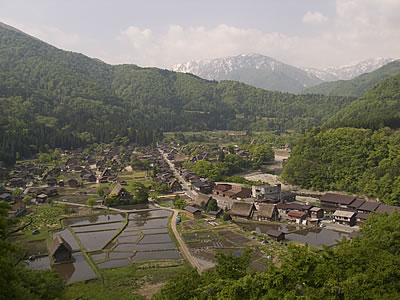 With cute little houses scattered everywhere.
Each of which were built with a not-so-cute amount of labour.
Miss Loi ended up staying in one particular cute little house.
That served up a cute little dinner.
All these made Miss Loi feel really keen to return on another time when things are supposedly even cuter.
Even though it'll burn another cute little hole in her cute little wallet 😛
Thanks for reading this cute little update from a cute little Miss Loi just before she tucks into her cute little bed.
Shirakawa-gō (白川郷) is a historic village in Gifu. It was registered as a UNESCO World Heritage Site on December 9, 1995.
The village is famous for its farmhouses, which are built in a unique architectural style known as gasshō (合掌). The name means "hands together" as in prayer, referring to the steep roofs that keep the snow off in the winter. Underneath the roofs, the large attic area was used to house silkworms.

Another feature which has brought fame to the village is that the recent Japanese anime series 'Higurashi No Naku Koro Ni'. Although the village residents are not too altogether thrilled that an anime series depicting large levels of violence has based itself on their village, it has brought the tourists nonetheless.