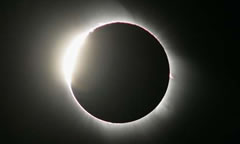 Ken (not his real name) was a cute, bubbly inquisitive kid (with a pair of chubby cheeks that everyone likes to pinch and twist) who used to do well in his studies.
No one knows how and why and when he began to believe that he could pass exams by revising from scratch minutes before they start, but nevertheless he stuck to his belief, over and over again, and his grades plummeted tragically as a result.
Understandably worried, his parents enlisted the help of a famous temple medium (who came highly recommended by vegetable seller's wife from the neighbourhood market) in a bid to snap Ken out of his mysterious trance.
After some dramatic rituals which involved a temporary solar eclipse followed by multi-coloured flags shooting out from somewhere behind the medium's body, the medium has this to say (after receiving a BIG FAT ang bao):
Translated from Hokkien:
Your son has been possessed by a very evil Last-Minute Buddha Foot Hugging Spirit. It is beyond my powers to save him.
*Takes another BIG FAT ang bao*
Your immense sincerity has suddenly unlocked my mind …

Let it be known that your son can only be saved by a Great Tutor who is born on a date given by the solution to this matrix equation:

where the top and bottom element of the resultant column matrix is the month and day of birth respectively.

Once you've obtained the date, remember that you MUST go and wish this tutor "HAPPY BIRTHDAY!" on the big day itself in order for your child to stand any chance of being saved!
Since this should be really straightforward to anyone with the most basic knowledge of matrices, Ken's parents (who have no knowledge of O-Level maths) will gladly let you pinch (and twist) his chubby cheeks for eternity if you can help them find the tutor's birthdate!