At an emergency sitting of The Temple Parliament convened by The High Priestess today in the face of the current flying teapots crisis, a motion was passed with a 100% (1-0) majority to amend Article (1 + x)n of The Temple Constitution, requiring all passing through the Temple Gates to make a compulsory Jφss Sticks offering at the voting altar (see photo above).
Students who fail to comply shall be deemed guilty of an offence punishable by an exponential increase in the amount of homework not exceeding x100 times the existing amount.
Remember …
Voting Is Compulsory. Your Vote Is Secret.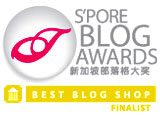 So have you made your Jφss Sticks offering today?
---
P.S. Before any of you start accusing this as a blatant plagiarism of another finalist's idea, let it be known that Miss Loi never thought of this as copying, but that she's simply localising an inspirational idea.
P.P.S. Anyone has the Tamil fonts for "Please Vote"?