For the last time … a last look at the sky, a last glance at the booklet, and a final series of codes:
| | |
| --- | --- |
| Physics Q1-10 | ACBBA ABADB |
| Physics Q11-20 | CBDCD CCADD |
| Chemistry Q21-30 | DBABA BDACC |
| Chemistry Q31-40 | DCCDA DBBAC |
Do they tally with yours?
Note: If you are taking Physics/Biology or Chemistry/Biology, the set of Physics/Chemistry MCQs in the relevant section of your paper should be exactly the same.
Update: For the last time …. the list of workings and explanations for each of the answers (where applicable) have been compiled (along with the questions at the end)!
Access here by clicking the

button (if you haven't yet done so).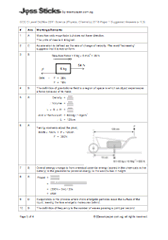 That's all folks. Goodbye and enjoy your holidays and FREEDOM!