Every year, and since time immemorial, it seems that it's always down to us unfortunate biology students to perform the closing ceremony of the 'O' Levels, while others party the weekend away chanting "Bio MCQ? WHAT Bio MCQ?????"
And each year, it's down to the unfortunately biology tutor (i.e. me) at The Temple to work out the final set of solutions for the season 🙁 (but least this time my brother still has his 100+ comments to go through hur hur):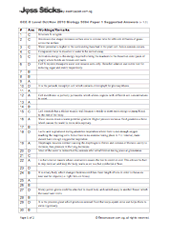 In any case,
it's over!!!
So while all of you now turn your attention to more pressing matters like choosing your prom dress etc., on behalf on all at The Temple, I hope everyone has had a great 'A' & 'O' Levels and would like to add that nothing else really matters as long as you've tried your best, and do take a bit of comfort from this by-now legendary quote over at the H2 Maths Paper 2 post (even though I know the 'how many marks to get A1?' Bell Curve fanatics will disagree with this):
… If we require you to swim 100 metres to get the A and you have shown us that you are capable, you will get it regardless of whether a big group of students have proven themselves to be able to swim around the world.
See you all again in January for Judgement Day!
---

Last but not least, as my sister is deep in the critical last stage of planning for her annual overseas trip, she asks me to inform everyone of her disappearance from 17-29 November 2010, and that the best way to contact her during this period is through email.