For a long, long time, there was only darkness.
A possessive darkness that kept destinies shrouded behind an impregnable veil of secrecy.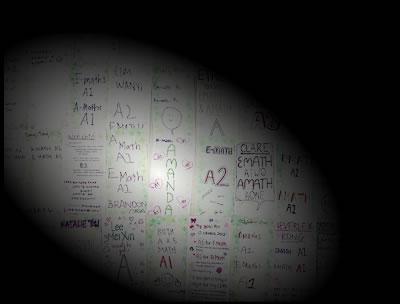 For the bochup wise, tumultuous events from the past faded quickly from memory. But for many others, they implored the darkness to grant them a glimpse of their looming fate.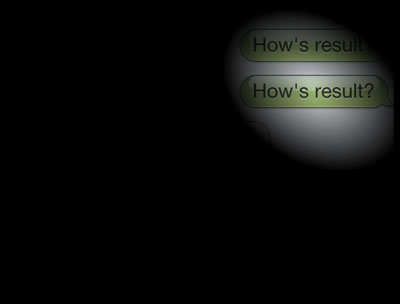 Just a glimpse for any desperate clue as to whether their hard work had paid off.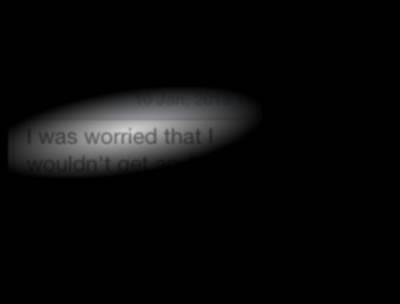 Whether that single unfinished question would prove to be fatal.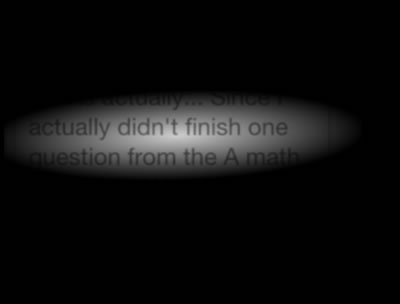 Or whether a corner has been turned.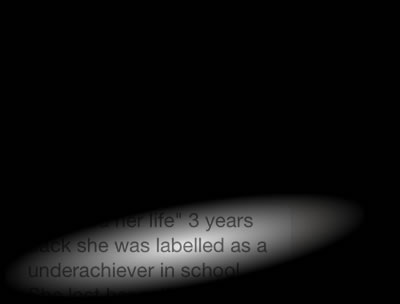 And whether salvation was finally at hand.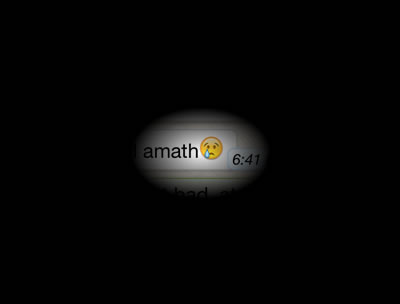 But the darkness would not listen to them, and for a long while, it seemed that it would be eternal.
Until one day, when her eyes suddenly snapped open.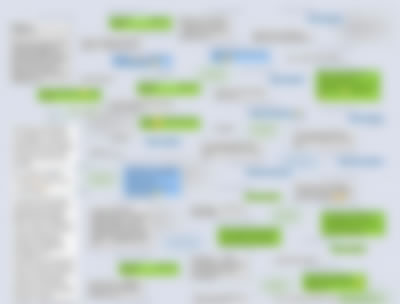 *hurried footsteps*
[Enter CHIEF DISCIPLE]
The Chief Disciple of The Temple appeared and rushed forward to the bedside.
Oh my High Priestess 教主! You have finally woken!!!
Where am I? WHAT TIME IS IT? WHEN IS JUDGMENT DAY???!!!
She screamed hysterically and shook the Chief Disciple frantically at a rate of 10 cycles/seconds.
Calm down! Calm down, my High Priestess! I can't talk properly when you're shaking me like a particle vibrating at a frequency of 10 Hertz!
After she slowly released her death grip on him, he took a deep breath and continued …
My High Priestess 教主, after you passed out from exertion following AMaths Paper II, the rest of The Temple came forth with the remainder of the solutions before our disciples were finally liberated from their 2012 GCE O Levels.

And for a short while, they were glad, even though Dooms Judgment Day always loomed in the deepest recesses of their minds.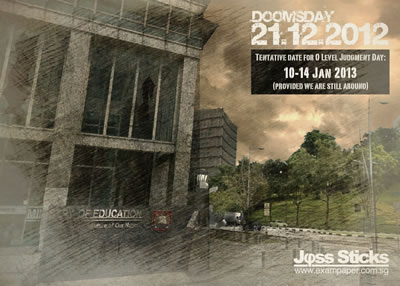 When the Day finally arrived on 10 January 2013, we were first greeted by grim news from MOE that, for the first time in a long time, overall results actually dropped compared to the previous year's.

Worse was to come, as more news filtered in of a kelong strange Bell Curve which cruelly left many despondent by expected results not turning out as expected and unexpected results turning out to be REALLY unexpected.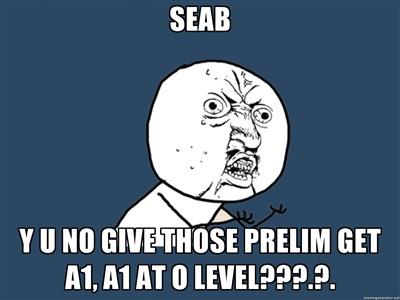 So what happened to The Temple's disciples?! Did they survive???
Slowly but surely though, positive news began streaming in to turn the tide.

For some, to reveal the full extent of damage caused by unfinished questions.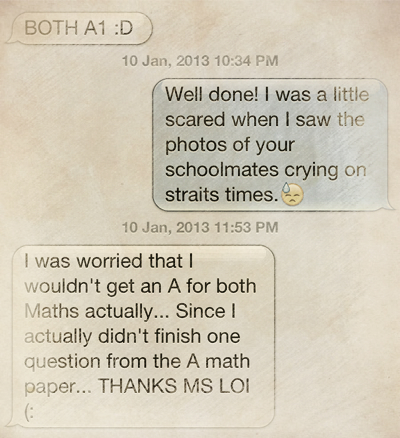 For others, to provide closure to the most anxious of fears.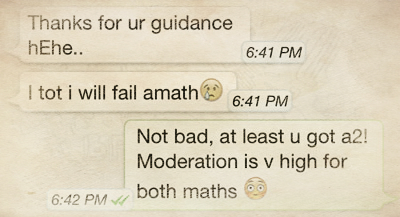 And for most, to confirm once and for all their eventual salvation.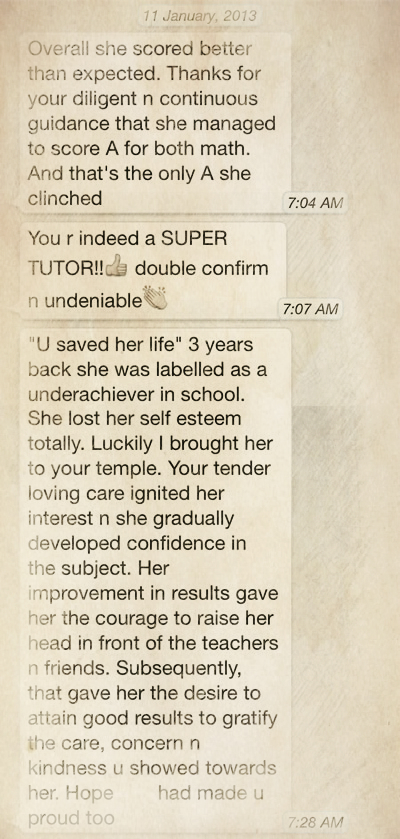 In the end, of our 2012 O Level batch of Temple disciples, 62.7% of whom first climbed the 38 Steps 上山 burdened with a failing grade of ≤ C6,

an astounding 92.2% of them made the jump to at least a B3 for BOTH E-Maths & A-MATHS,
with more than half (52.2%) scoring DISTINCTIONS for BOTH E-Maths & A-Maths.

In addition,

92.2% attained at least a 3-grade jump (yeap all who got ≥ B3 for both maths jumped at least 3 grades!)
80.4% attained at least a 4-grade jump
78.4% attained at least a 5-grade jump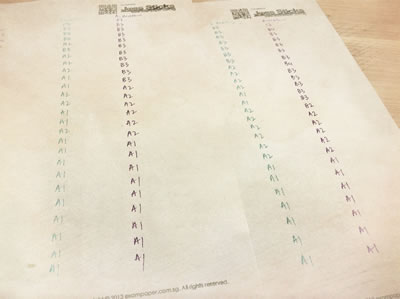 And so my High Priestess, despite a slight drop in this year's national results compared to last year's, our 2012 batch of disciples actually managed to improve upon last year's supernatural results.
It was as if the long reign of darkness ended that very moment, revealing everything it had stubbornly concealed till her awakening.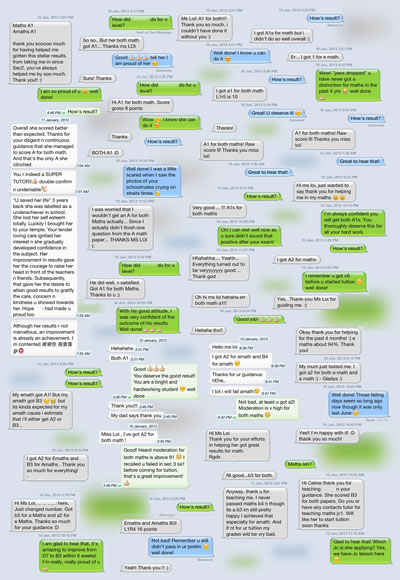 I'm so happy for them! I must congratulate each and everyone of them for doing themselves and The Temple proud! Bring me to them now!
The Chief Disciple sighed.
Unfortunately, my High Priestess 教主, it's a bit too late for that now, for Judgment Day has come and gone a month ago from this very day.
No …
It was then she struggled to contain her tears.
Please don't be sad my High Priestess.

Be comforted that all of them are at a better place now, carried like dandelion seeds by the cool Spring breeze to blossom into young adults with aspiring dreams – be it surrounded by handsome JC boys and pretty JC girls or being finally liberated in Poly from their childish uniforms and toot toot hairstyles.

We can only hope that a small piece of The Temple continues to reside within their hearts, as an enduring memory of their short stay here at one point in their lives.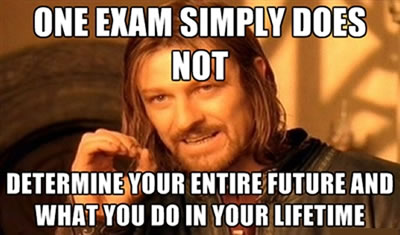 What about the *Second T … ?
Hush! That can wait.

We'll talk about it after you have fully recovered – there's a lot of work to be done.

Moreover it's Chinese New Year now!
o.O
Both of them then turn simultaneously to face the camera, traditional 拜年 movie-style.
祝大家
劇終
The End
*sound of fire crackers*
* The REAL reason this blog post is late by a month :\